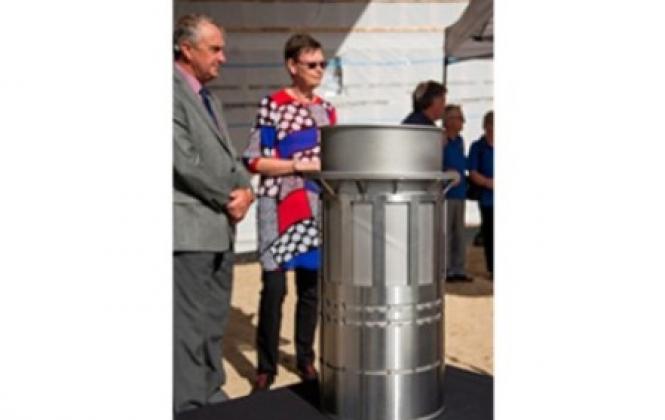 Cambridge Resthaven's new time capsule is "quirky shape" referencing the water tower that is so much a part of Cambridge. The capsule was commissioned by Resthaven to mark the opening of the new Community Centre and it will spend 50 years underground at the entrance way. Stainless Design considered the brief, and then designed and manufactured a time capsule that is a "work of art".
The capsule is made from stainless steel and showcases several of Stainless Design's capabilities including flatbed laser cutting, tube laser cutting and high quality welding."
The Resthaven team were so impressed that they decided to give the public an extra month or so to view it before being buried.
Resthaven Foundation Trust patron, Eric Hill said that several ideas had been considered when looking for a way to mark the opening of the new Community Centre, including the laying of a foundation stone. "When the decision settled on burying a time capsule at the site, thoughts of having it designed around the water tower took shape. Stainless Design interpreted the brief perfectly and the stainless steel capsule is amazing." The capsule will be filled with writings from residents, items from various groups, photographs, and published pieces reflecting current events in and around Cambridge.
"It's almost too pretty to put underground, but then again, look at the treasure that awaits those recovering the capsule in 50 years from now."